Sorry for another delay, folks! But I'm gonna have to postpone the conclusion of my Blackmark review until next week. What with all the work I seem to be putting into it, you're probably expecting an epic of some kind. Truth be told, I've been busy with other projects this week (work and otherwise) and one of them has taken a day or two longer than I had hoped.
You see, over at
Hawgleg Publishing
, we're getting ready for a big deal: Our annual April Fool's Day story!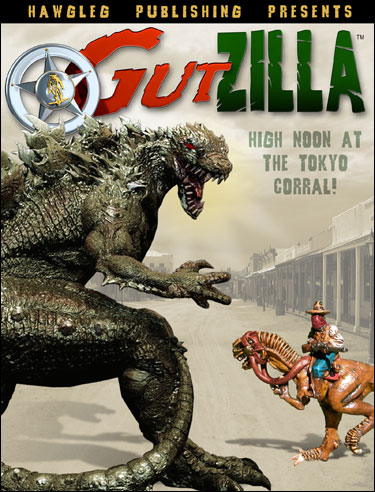 Our joke product from 2010
Every year we claim to be releasing some wild and bizarre product -- usually a type of game. We started this tradition waaay back in 2005 when we announced we were producing a miniatures game based on the then-hit film, Brokeback Mountain. The game would have miniatures with "removable chaps and boots." The cool thing was, we actually fooled a few people until the end of the story where we announced that the whole thing was a gag.
Since then, we've released stories claiming that we were doing games based on
Cowboys vs. Godzilla, Cowboys vs. Cthulhu,
and even
Cowboys & Indians
game that was based on Bollywood Musical Movies!
The funny thing is, we always get comments from people saying, "Darn it! I'd BUY that if you'd make it!"
You can read all of our stories over at our Website... but be warned, this is the one day a year we stretch that "PG-13" rating on our site and the stories are a bit naughty... We never use dirty language or curse words, but there are a few jokes in there that might not be "work safe." Read on only if you're brave!
Gutshot April Fool's Day Story Work In Progress
(Click on image for larger view)
This year, we're doing something a little different. Instead of a simple game product, we're going to claim that we're releasing our own line of Whiskey. So, for the past two days, I've been working on the artwork for the story. I'm using a 3D software application (
Strata 3D CX
) to create a cool bottle and label for our new product.
Here's a sneak peak at what I've been working on. The bottle to the left was the first bottle I created, but I decided it was too ornate and looked more like a fancy wine bottle. So I switched to something more basic like a square bottle. I then added the badge (our game's logo) to the bottle to give it some character.
I'm not going to include the wine bottle in the final illustration, and I'm also going to have a label ready for the bottle (actually, I just finished it but decided to keep it under wraps until April Fool's Day on Sunday).
Right now, I've got to admit I'm pretty pleased with the way this has come out. The lighting and textures are very realistic (and this isn't even the best render I can do -- this is a fast render).
So, I hope you'll all excuse me for getting sidetracked from my Blackmark review for another week. It's just that I really want this to come out nicely, so it's taking a bit of work to get the results I want.
Mosey on back Friday and find out what I've got cooked up for the weekend!