Yesterday was April Fools Day,
and as I explained last week, I enjoy creating pranks for the holiday. Since 2006, Hawgleg Publishing has honored the spirit of the day by announcing the release of a fake product.
This year, our product was gaming-themed whiskey. That is to say, a boutique line of whiskey with a 25mm Western miniature in each bottle. We release the story at our Website (
www.hawgleg.com
) and
TheMiniaturesPage
. The story is a bit naughty, but for the most part it's workplace safe -- and it was a BIG hit at TMP. In fact, since April 1 fell on a Sunday, we were apparently the only company that took the time to create a joke (some years at TMP, there are easily a dozen fake products, but this year we were the sole provider, which actually helped us pull the wool over people's eyes more effectively than usual).
I also think the quality of our artwork helped sell the joke: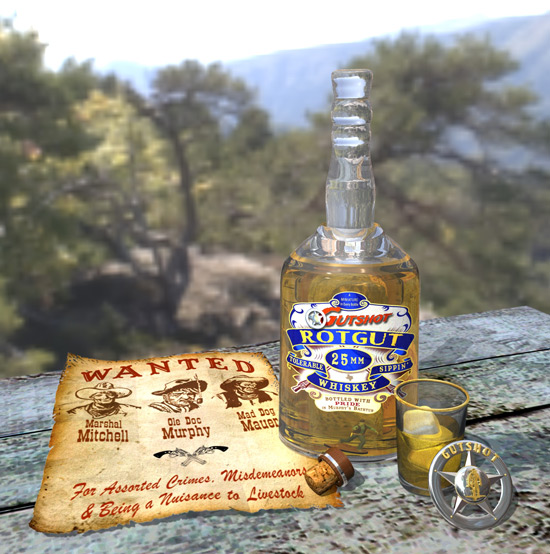 I created this image in Strata 3D, which is a 3D illustration program I've been working with for a long time (probably more than 10 years). It's a powerful, but lesser-known tool with a lot of horsepower there waiting to be unleashed -- as I hope you can see in these images.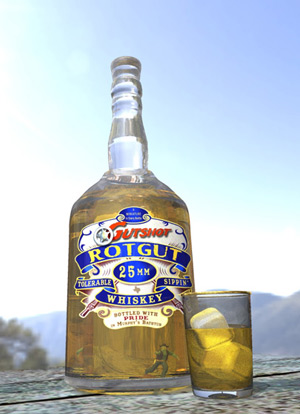 I think this time I came very close to achieving photo realism with these images. They're not quite 100% perfect, but they definitely do a good job of looking like real product artwork. I also got several complements on the quality of the label: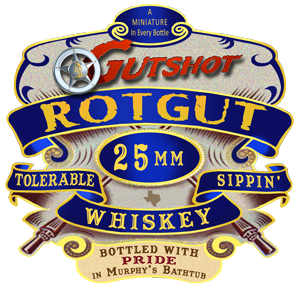 I even had a few people ask for a full-size label so they could print it out and put it on their own whiskey bottle. As one guy said, he wanted to see if anyone would notice. If you'd like to see the full-size label, you can
get it by clicking here
. I wish I could take all the credit for the label, but I did start off with an existing label from a Chivas Regal bottle. You can compare them by
clicking here
to see what I started with.
See ya Wednesday for an update on the Blackmark review.